TeleMatch Mobile Legends 515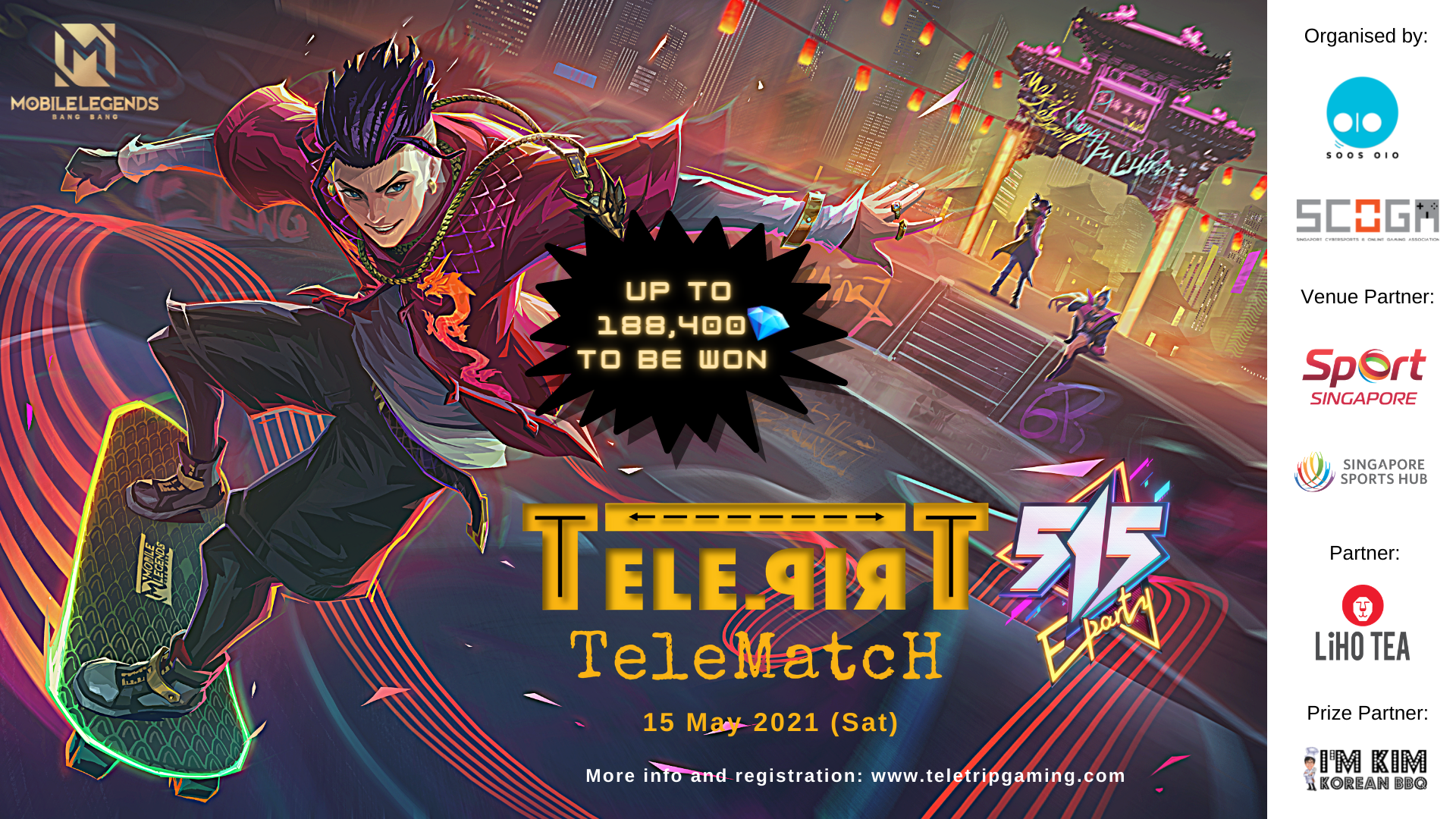 Description
Looking for a way to celebrate Mobile Legends 515 anniversary with awesome games, high chances of winning lots of diamonds and potentially getting your hands on official MLBB merchandise?
Join us at TeleMatch Mobile Legends 515, where we aim to have a total of 515 players online to compete in a single day to celebrate this special day. Together let's achieve!
Does it mean that you will have fewer chances of winning with more players? We got you covered as prizes are guaranteed for the top team, best teamwork, most spirited team, MVP and best support for each group at the end of the group stages. Each group has a maximum of 8 teams.
The GRAND PRIZE: The champion of TeleMatch Mobile Legends 515 will earn 10,000 diamonds, 5 limited edition S.T.U.N. skins per team. Celebrate the team's victory over a meal as the champion will also receive $100 ($20 x 5) cash vouchers from I'm Kim Korean BBQ!
TeleMatch Online Individual
Having trouble finding teammates and don't wanna miss out on these awesome prizes?
Join individually and we will matchmake you into teams according to similar ranks and complementary roles.
We welcome friends not in Singapore to join us for TeleMatch Online.
Stand-in Registration
We also have a Stand-in Registration for those who do not have a team but do not mind helping teams whose player(s) cannot play on the day itself. This means that you will have to be on standby on TeleMatch, and may or may not get a chance to play. Stand-ins will be assigned to the teams based on the roles. Stand-ins do not need to pay a registration fee. Do take note that teams that are assigned a registered stand-in can only change a maximum of 1 time.
While we welcome stand-ins, we strongly encourage players who do not have a team to form a team to play at Mobile Legends SOOS Discord and Mobile Legends SOOS Telegram.
TeleMatch will be live streamed and casted on TeleTrip.Facebook Page.
Slots are limited so don't wait and register now.
*For registration, a team consists of 5 players. Should a team decide to register with less than 5 players, the team still needs to pay for 5 players
Event Details
Date: 15 May 2021 (Saturday)
Time:
(GMT+8) 10AM to 6PM (TeleMatch Online)
Location:
TeleMatch: Online
Registration Deadline: 10 May 2021 (Monday) 2359h
Price: TeleMatch Online Individual Registration SGD2/pax
TeleMatch Online Team Registration: SGD10/team
Registration Form
For individual and team registration, please fill up the first form. For stand-in registration, please use the form below.
Individual and Team Registration Form
[RM_Form id='20']
Stand-in Registration Form
[RM_Form id='21']
Team Size & Lineup Info
Replacement of players outside of the 5 players registered are NOT allowed 12 hours before the game starts.
If a team replaces a player within 12 hours before the game starts, +10 kills for the opposing team.
If the team needs a stand-in within 12 hours and cannot find players and/or do not wish to award +10 kills to the opposing team, the team can use the available stand-ins from the available pool of stand-ins in TeleMatch.
The team captain needs to provide us with the replacement player's first name, last name and IGN.
The minimum number of players in a team to participate in TeleMatch is FOUR (4) but no handicap is given.
Each player can only play for one team throughout this TeleMatch.
Format
Group stage: Round-Robin Best-of-1 (BO1) 
The top team from each group will proceed to the quarter-finals.
The top team from each group is determined by the highest wins.
Should there be a draw in the number of wins, it will be determined by the number of kills.

E.g. Team A 2 wins 41 kills Team B 2 wins 103 kills
Team B is the top team of the group and Team A is the runner-up should these teams have the highest number of wins in the group

The total number of teams proceeding to the quarter-finals is 16.

The 16th team is the team with the highest number of kills across all the groups, excluding the top teams from the 15 groups.

Playoffs: Single Elimination Best-of-1 (BO1) 
Player Conduct
No all chat bm. Everyone's here to make friends and have fun together. 
No intentional feeding. 
Please use the in-game name (IGN) and team names that you have registered with for ease of result-collection.
Please limit team names in IGN to three letters.

E.g. Apple.Player to Apl.Player
Punctuality
Team Captain to check in on discord 30 minutes before the game. 
Games may start earlier/ be delayed if the previous game has ended earlier/ not ended. 
Teams are expected to be in the in-game lobby as instructed by the marshal

Maximum 10 minutes waiting time
If any team is not ready during the designated time, the team that is late will forfeit that match (not the whole TeleMatch) 
If the late team makes it before the cut-off time, the punctual team will receive 10 team kills (individually 2 kills and 2 assists)
If the late team forfeits the match, the punctual team will receive 1 team win, 20 team kills (individually 5 kills and 3 assists)
Pauses
Pauses can be requested and will be executed by the marshal.
Each team has a maximum pause time of 5 minutes per game.
No restarting of lobby due to misclicks e.g. choose wrong hero, add wrong skill, …
Score & Prizes
Besides the winning team, there are prizes determined by wins, assists and kills.
Physical prizes and vouchers can only be claimed in Singapore.

Prize winners who are not in Singapore can choose to share these prizes with another team/ player in TeleMatch

Link to the scoreboard will be provided when TeleMatch starts.
Prize List
Overall Winner:

Grand Prize – 10,000 diamonds, 5 STUN skins and $100 I'm Kim KBBQ Cash voucher per team
2nd Place – 7,500 diamonds per team
MVP – 800 diamonds, 1 official MLBB Mug and $20 I'm Kim KBBQ Cash voucher
Best Support – 800 diamonds,1 official MLBB Mug and $20 I'm Kim KBBQ Cash voucher.

Group Stages (for each group):

Group Winner – 3000 diamonds per team
Group Best Teamwork – 2000 diamonds per team

Group Most Spirited – 1000 diamonds per team

Group MVP – 250 diamonds
Group Best Support – 250 diamonds

To reward as many players as possible, players can only receive 1 prize.

E.g. group winner will not qualify for the other group prizes.

Players can only secure 1 prize.

They will always qualify for the higher value prize.
e.g. Group winner wins the grand prize. Will receive grand prize (group winner prize not accumulated).