TeleMatch Valorant – 10 Apr 2021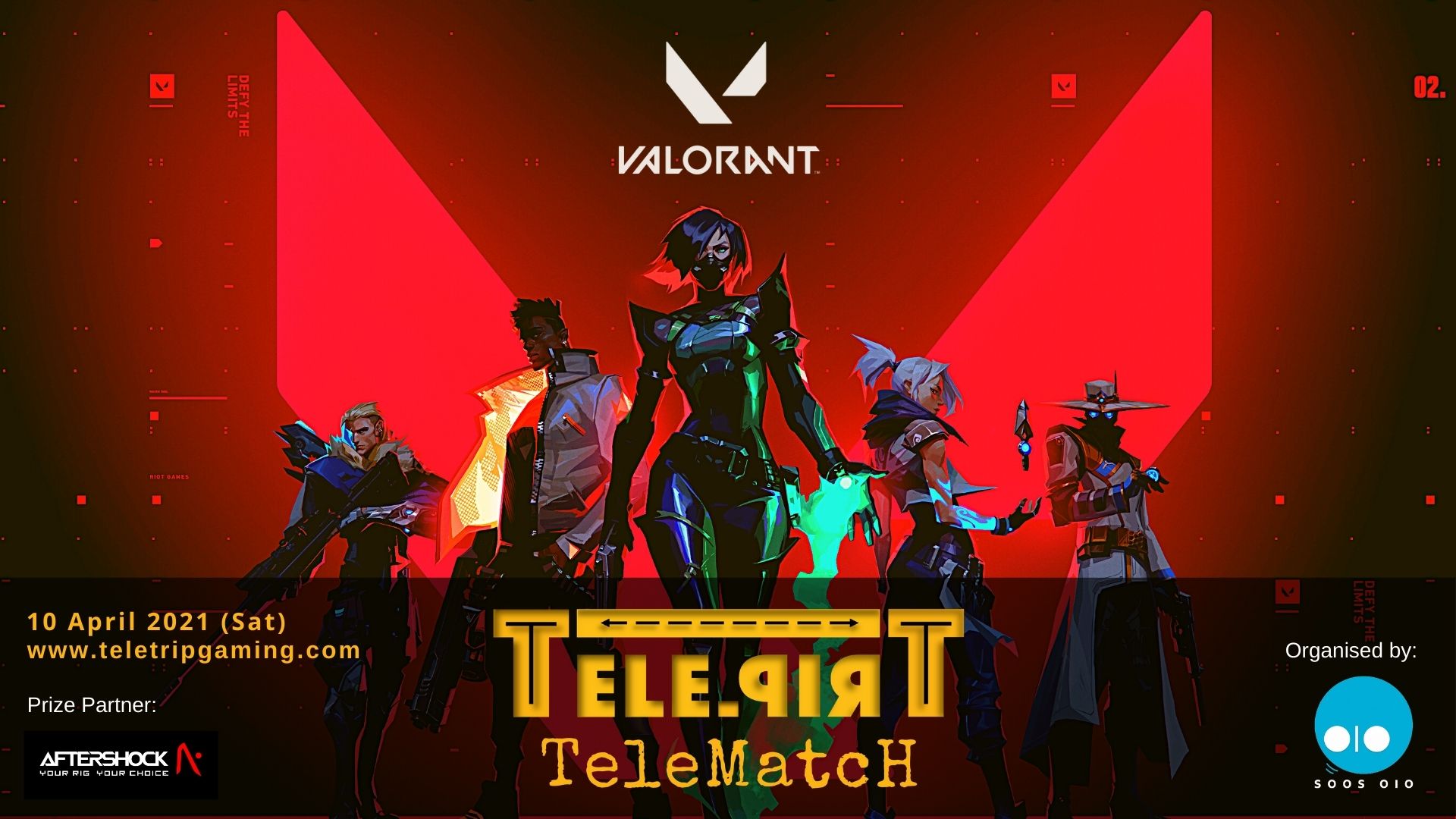 Description
Looking for a fun and casual competitive experience with your friends in Valorant?
Wanna experience the thrill of playing competitively in a casual environment? Join us at TeleMatch Valorant!
Grab your teammates and join us at TeleMatch. You get to play against other teams and stand a chance to win cool prizes from Aftershock! Whether you are a casual or a veteran in Valorant, we encourage you to form your teams and experience competitive play!
No team? No problem! Register as a stand-in if you do not mind helping teams whose player(s) cannot play for whatever reasons on the day itself. This means that you will have to be on standby on the day of TeleMatch, and may or may not get a chance to play.
In TeleMatch, there will be prizes for not just the winning team. >_<
TeleMatch will be live streamed and casted on SOOS OIO Twitch. Stay updated on TeleMatch by following the TeleTrip Facebook Page.
Slots are limited so don't wait and register now!
Event Details
Date: 10 Apr 2021 (Sat)
Time: 11.30am – 8.30pm
Registration Deadline: 4 Apr 2021, Sun
FREE
Registration Form
[RM_Form id='18']
Rules
Team Size & Lineup Info
You can register as a team of 5 players

Up to 1 substitute player is allowed (sub)
Players, including sub, are only allowed to register for 1 team

If the team is incomplete, you can still register the team

Available stand-ins will complete the team
You can continue to find players to complete the team. Remember to update the admins if you managed to do so.

Replacement of players outside of the 6 players registered is NOT allowed 12 hours before the game starts.
If a team replaces a player within 12 hours before the game starts, +60 team kills, 12 individual kills and 5 individual assists for the opposing team.
The team captain needs to provide us with the replacement player's name and nickname for result-collection.
The minimum number of players in a team to participate in TeleMatch is four (4) but no handicap is given.
There is no penalty when the 6th player plays in any of the games.
Format
Group Stage: Round-Robin Best-of-1 (BO1)
Map rotation in order: Haven, Split, Ascent, Bind
Semi-finals and Finals: Best-of-1 (BO1)

Semi-finals: Split
Finals: Blind

Top 2 teams from each group will proceed to the semi-finals.

The winning team is determined by the highest wins, followed by kills.

Team sides will be determined by the organiser.
Singapore Server will be used.

The decision to use Singapore 1 or Singapore 2 servers will be determined by the facilitators.

Game Setting

Mode: Standard
Allow Cheats: Off
Player Conduct
No all chat bm. Everyone's here to make friends and have fun together.
No intentional feeding.
Please use the nicknames and team names that you have registered with for ease of result-collection.
Penalties
Team Captain to check in on discord 30 minutes before the game. Games may start earlier/ be delayed if the previous game has ended earlier/ not ended.
10 minutes late to a match: other team gets +60 kills added to score
15 minutes late to a match: other team gets a default win
If neither team shows up within 10 minutes of match start: match forfeited.
If the previous match ends early, the penalty timer for the next game will begin 45 minutes after the previous match started

The minimum time between a game ending and the penalty timer starting is 10 minutes

If the previous match takes longer than expected (over 45 minutes), the penalty timer will start 10 minutes after the previous match ends
Score & Prizes
Besides the winning team, there are prizes determined by kills and wins.
Prize winners will be required to collect the prizes physically.
Prizes can only be claimed in Singapore.
Link to check the scores will be provided when TeleMatch starts.
Pauses and Disconnections
No restarting of lobby due to misclicks e.g. choose wrong character, bought wrong gun, …
If one of the teams will not pick all the agents in the character selection screen and the game goes back to the lobby, the game has to be remade.
In the events that a re-host is needed, we will restart the lobby. The round count will stay the same upon reconnect/re-hosting of the match.