TeleMatch Valorant – 17 Dec 2022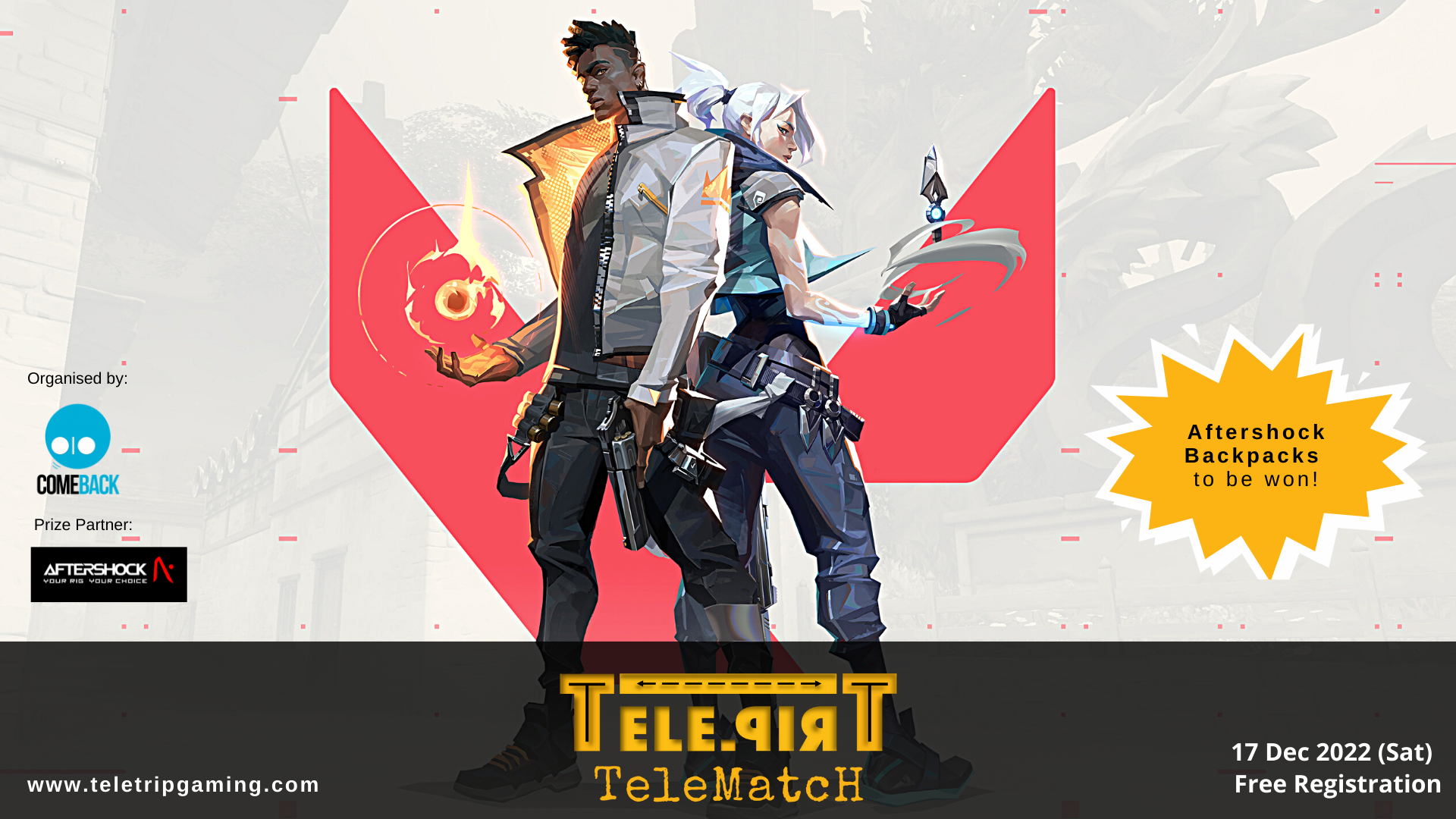 Description
We are excited to announce the TeleMatch Valorant is back!
It's time to gather your friends and have some fun! TeleMatch Valorant is playing this 17 Dec 2022. TeleMatch is a community tournament to gather players to have fun playing Valorant together. All ranks of players are welcomed.
Non-singaporean friends are welcome to join but take note that prizes must be collected in Singapore!
Both team and individual registrations are accepted.
The whole tournament will take about 5 hours for the winners to be determined. In the group stages, it is round robin within the groups. Only 4 teams will qualify for the semi-finals. Selected games will be livestreamed on TeleTrip Twitch Channel.
ANNOUNCEMENT: REGISTERED PLAYERS, please check your email for briefing updates. Individual registrants, your team details will also be emailed to you. 
Event Details:
Date: 17 Dec 2022
Time: 10.30am – 3.30pm, Singapore time (GMT +8)
Registration Deadline: 11 Dec 2022 (Sun)
Event Briefing
Date: 14  Dec 2022 (Wed)
Time: (GMT+8) 7:30 pm
Venue: Online Zoom Meeting
Compulsory for team captain. Highly encouraged to have at least 2 from each team to attend.
Registration Form:
Please choose two players from the team who are savvy in creating lobbies and register them as the Team Captain and Player 2.
Link to the registration form:  https://bit.ly/TMV221217
Please read the rules of TeleMatch Valorant here.
Livestream
TeleMatch Valorant will be livestreamed on twitch.tv/teletripgaming.
Social Media Links
If you have any questions about TeleMatch Valorant, feel free to contact us at our TeleTrip.Gaming Facebook page.
Please like, follow and join our social media channels:
Valorant SOOS Facebook Group: https://www.facebook.com/groups/valorantsoos
TeleTrip.Gaming Facebook Page: https://www.facebook.com/teletripgaming
TeleTrip.Gaming Instagram: https://www.instagram.com/teletrip.gaming/
TeleTrip.Gaming Twitter: https://twitter.com/TeleTripGaming