TeleTrip Festival Finals – 29 May 2022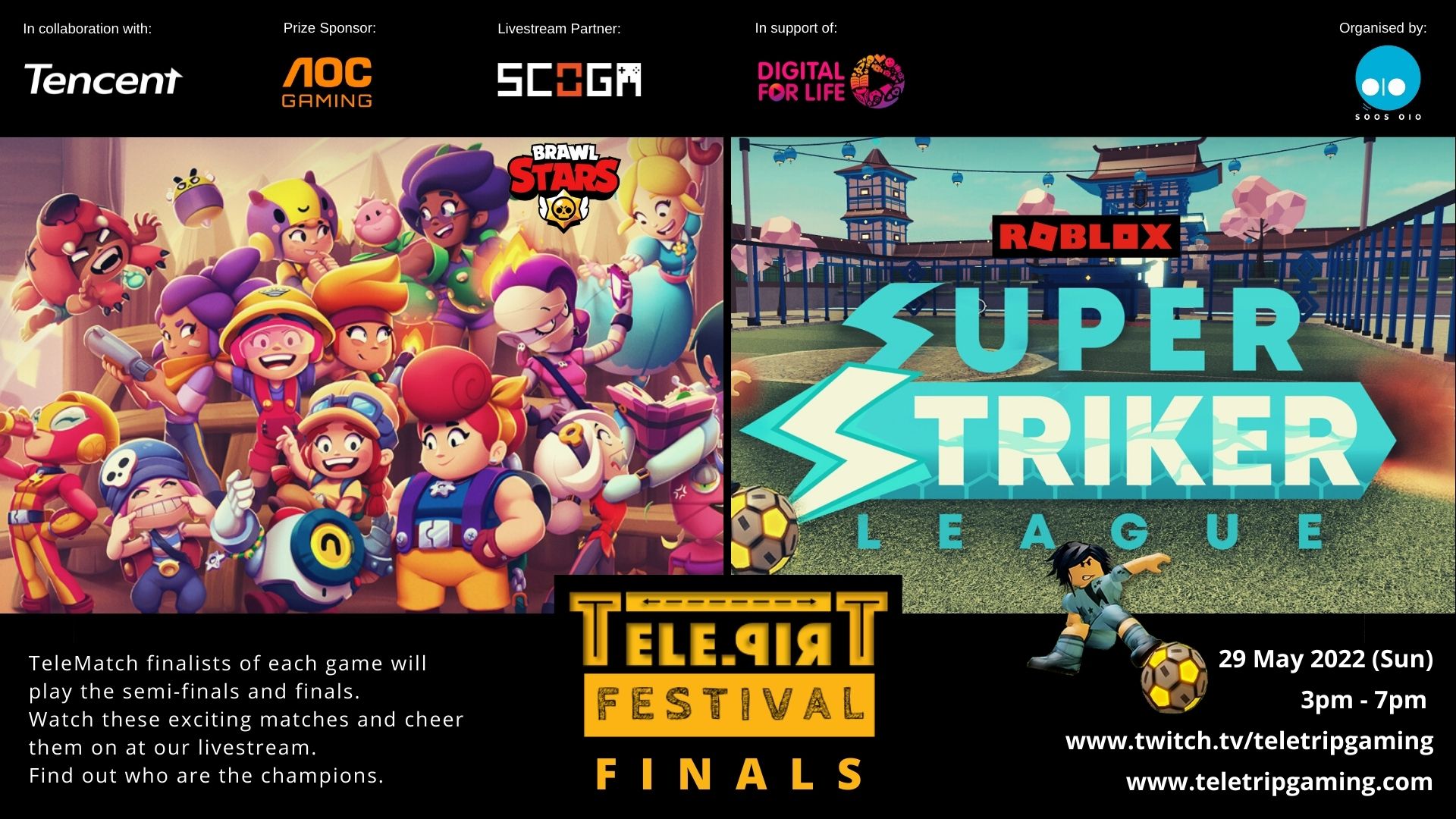 Description
Looking for exciting games to kickstart the June holidays?
Look no further as there are THREE TeleMatch titles that you can be a part of at TeleTrip Festival! Gather your family and friends to join us.
TeleTrip Festival is playing the popular Brawl Stars and Roblox: Super Striker League. Gather your family and friends, both young and old to play together and have a great time. This is happening across two weekends, three days on 22 and 28-29 May 2022. Click on the links below to find out more.
22 May 2022 (Sun) – 10.30am – 1.30pm –  TeleMatch Brawl Stars
28 May 2022 (Sat) – 3.00pm – 6.00pm – TeleMatch Roblox: Super Striker League
29 May 2022 (Sun) – 3.00pm – 7.00pm – TeleTrip Festival Finals
Players of each game title will be playing our usual TeleMatch format for a day. This is our first step to gather players of different game titles to play their semi-finals and finals on 29 May 2021 (Sun) to play for the game champions.
Feeling adventurous? Feel free to join ALL TeleMatch at TeleTrip Festival 🔥
You can also support the teams playing by watching the livestream on Twitch.
What is TeleMatch
TeleMatch is a casual community tournament where we welcome players and teams of all levels to join us all in the name of fun and social.
Whether you are a casual or an expert in Pokémon UNITE, Brawl Stars or Roblox, we encourage you to form your teams and experience competitive play.
NO First-Round Outs (FRO) as teams get to play at least three games with other teams in our round-robin group stages. 
Individual Registration
No team? No problem! Registration is also available for individuals.
We will matchmake individual registrants when there are enough to form a team. You will be put into teams with similar ranks and unique roles whenever possible!
Fun Match
What's a community competition without a little bonding? Look forward to the Fun Match where each team gets to send a representative to play with the other players! More details will be shared during the briefing!
Prizes
Prizes are not only for the winning teams. There will be prizes like Best Support, Most Spirited Team, MVP and more prizes that we award to participating teams. We are giving out more than SGD6,000 worth of prizes from AOC Gaming. For the prize details, go to each of the TeleMatch for the list of prizes that will be given out. 
Livestream
Games will be livestreamed on twitch.tv/teletripgaming and casted by our community casters.
Registration
For more information and to register, please head to the following event pages:
Volunteers
To ensure TeleMatch runs smoothly, we would need the support of volunteers as scorers and community casters.
If you are interested to find out more, reach out to us at our TeleTrip.Gaming Facebook page.
Contact Us
If you have any questions about TeleMatch Pokémon UNITE, feel free to contact us at our TeleTrip.Gaming Facebook page.
Please like, follow and join our social media channels:
Facebook Page: @teletripgaming
Instagram: @teletrip.gaming
TikTok: @teletrip.gaming
Twitter: @TeleTripGaming
Sorry, this event is expired and no longer available.