TeleMatch League of Legends – 12 Mar 2022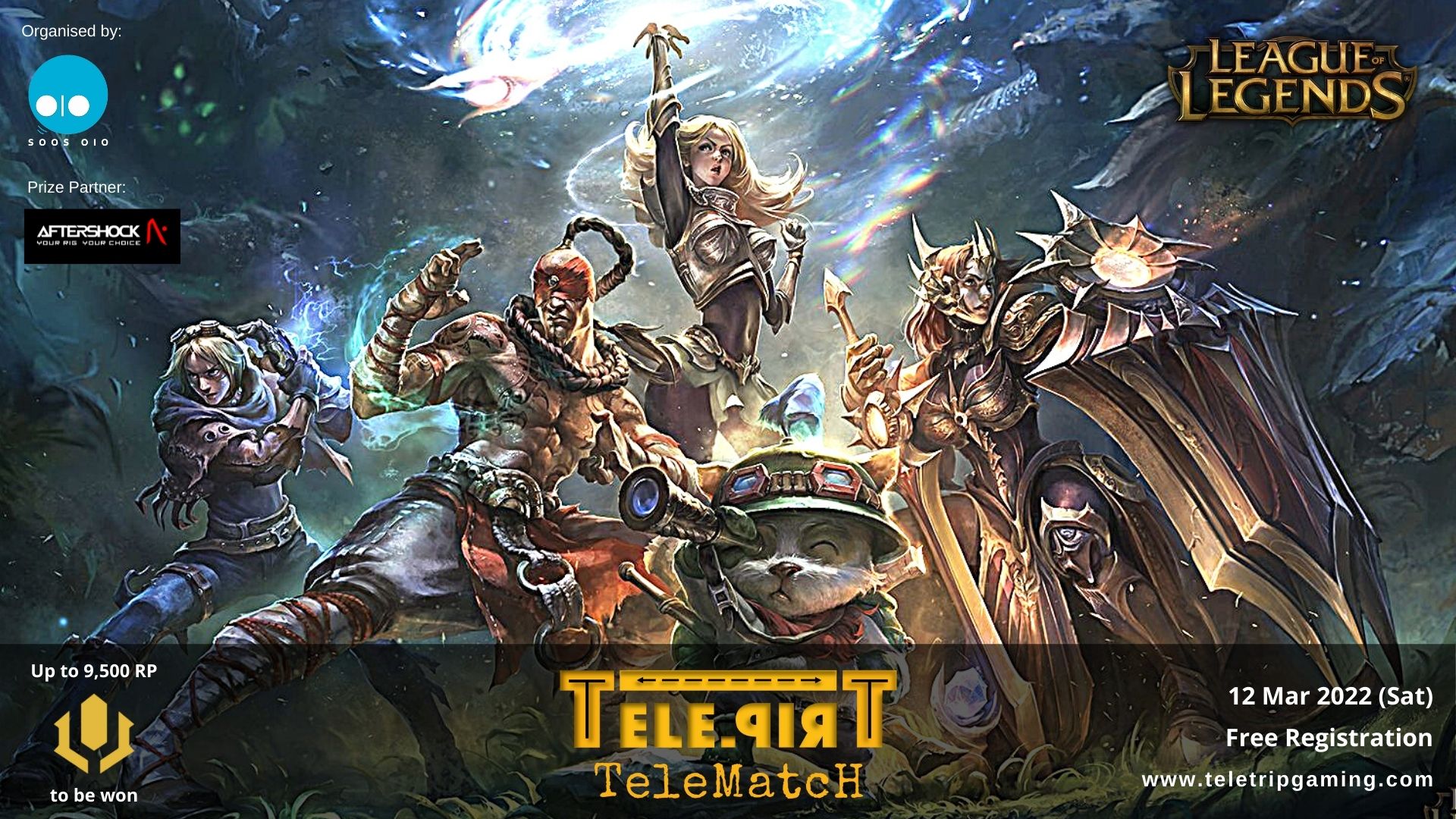 Description
Craving for some challenging games with your friends while standing a chance to win prizes?
Join us at our community competition TeleMatch League of Legends! 
To allow more teams to join us at TeleMatch, teams are invited to take an active role in starting the lobbies and sending the scoreboards. There will be a briefing for the teams to know what to do during TeleMatch.
You can register individually as a stand-in. Stand-ins will be called when teams require a registered stand-in. Should there be enough stand-ins to form a team, the stand-ins can register the team here. The team will not be registered if the information is not submitted via the team registration form.
What's a community competition without a little bonding? Look forward to the fun match where teams get to send a representative and play together with the other participants! In this fun match, all champions will be unlocked. More details will be shared during the briefing!
To ensure TeleMatch runs smoothly, we would need the support of volunteers as scorers and community casters. If you are interested to find out more, reach out to us at our TeleTrip.Gaming Facebook page.
Event Briefing
Date: 9 Mar 2022 (Wednesday)
Time: (GMT+8) 7.30pm to 8.30pm
Venue: Zoom
Compulsory for each team's captain and player 2
Event Details
Date: 12 Mar 2022 (Saturday)
Time: (GMT+8) 11.30AM to 8.30PM
Registration Deadline: 27 Feb 2022 (Sunday) 2359h
Free
Online
Minimum 16 teams to run
Mode: Tournament Draft
Group Stages: Best-of-1 Round Robin, maximum 6 teams in a group (only the group winners may qualify to Semi-Finals – see Rules below)
Semi and Finals: Best-of-1 Single Elimination
Prizes
Champion: 5,000 RP* and 5 Aftershock Backpacks** per team
Best Teamwork: 2,500 RP* and 5 Aftershock Backpacks** per team
Most Spirited Team: 1,500 RP* per team
MVP: 250 RP*
Best Support: 250 RP*
*RP can only be credited to accounts in the PH or SG Garena servers
**Backpacks must be collected in Singapore.
For more information about how to win the prizes, please read the rules below
Livestream
TeleMatch League of Legends will be livestreamed on twitch.tv/teletripgaming.
Contact Us
If you have any questions about TeleMatch League of Legends, feel free to contact us at our TeleTrip.Gaming Facebook page.
Please like, follow and join our social media channels:
League of Legends SOOS Facebook Group: https://www.facebook.com/groups/306565636716296
TeleTrip.Gaming Facebook Page: https://www.facebook.com/teletripgaming
TeleTrip.Gaming Instagram: @teletrip.gaming
TeleTrip.Gaming TikTok: @teletrip.gaming 
TeleTrip.Gaming Twitter: @TeleTripGaming
Registration Form
Please choose two players from the team who are savvy in creating lobbies and register them as Team Captain and Player 2.
Link to the registration form: https://bit.ly/telematch-lol-12mar22-registration
Rules
TeleMatch rules are available at this link: https://bit.ly/telematch-lol-rules
Sorry, this event is expired and no longer available.