TeleMatch Call of Duty: Mobile – 19 Dec 2022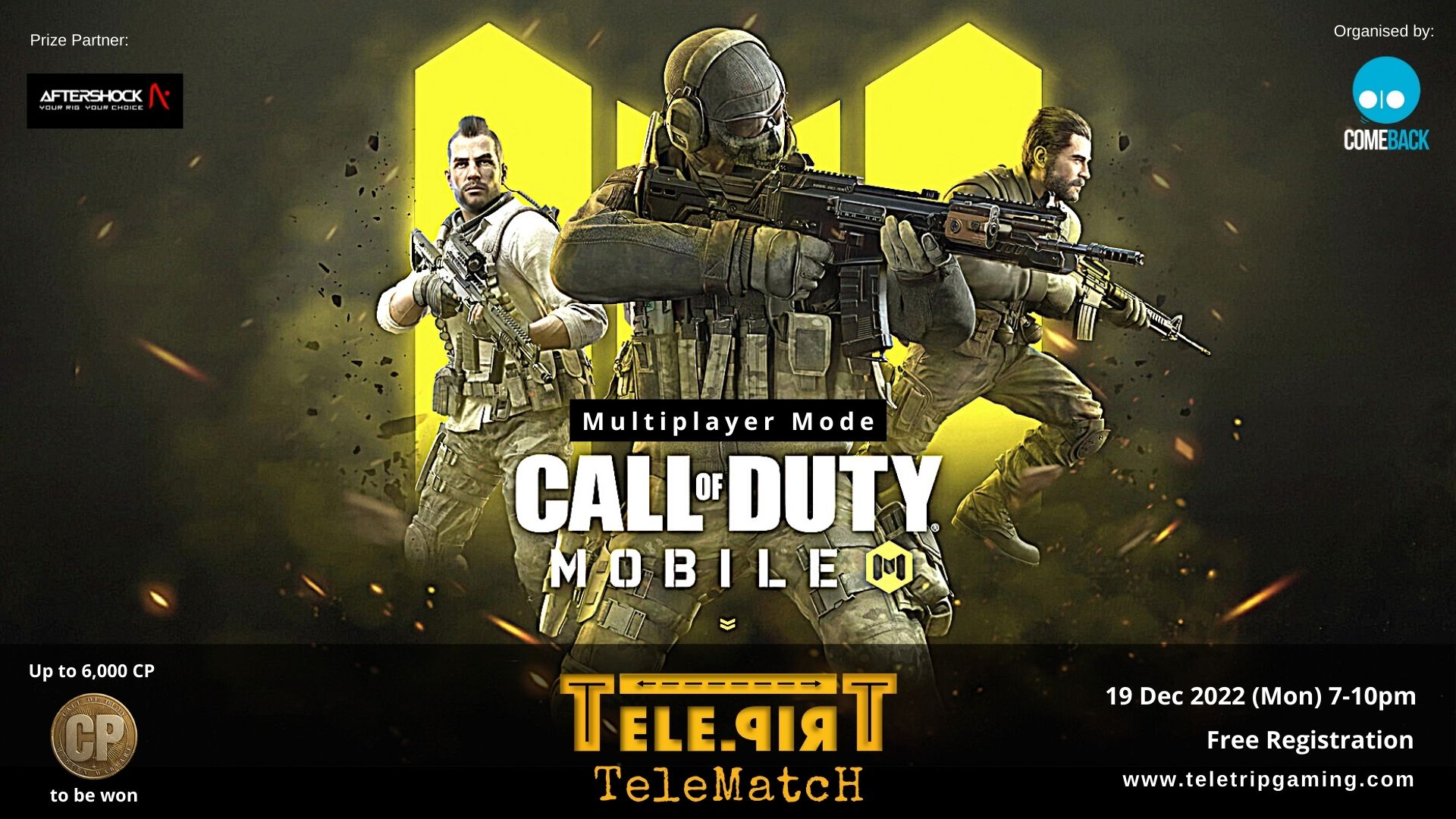 Description
Calling all Call of Duty: Mobile players! Join us for a day of fun, gaming, and building friendships at TeleMatch.
We're all ready for some epic fun! Gather your friends and have a blast playing CODM!
Everyone is welcome. Whether you're a newbie or a pro, we have something for everyone!
Event Details
Date: 19 Dec 2022
Time:  7:00pm-10;00pm, Singapore time (GMT +8)
Registration Deadline: 12 Dec 2022
Format: 5v5 Multiplayer (MP)
Modes:  Search & Destroy
Group Stages: Best-of-1 Round Robin
(only the group winners may qualify to Quarter-Finals – see Rules)
Semi and Finals: Best-of-1 Single Elimination
Event Briefing
Date: 15  Dec 2022 (Thurs)
Time: (GMT+8) 7:30 pm
Venue: Online Zoom Meeting
Compulsory for team captain. Highly encouraged to have at least 2 from each team to attend.
Registration Form:
Please choose two players from the team who are savvy in creating lobbies and register them as the Team Captain and Player 2.
Link to the registration form: https://bit.ly/TMCODM221219
Please read the rules of TeleMatch Call of Duty: Mobile here.
Livestream
TeleMatch Call of Duty: Mobile will be livestreamed on twitch.tv/teletripgaming.
Social Media Links
If you have any questions about TeleMatch CODM, feel free to contact us at our TeleTrip.Gaming Facebook page.
Please like, follow and join our social media channels:
Call of Duty: Mobile SOOS Facebook Group: https://www.facebook.com/groups/codmsoos
TeleTrip.Gaming Facebook Page: https://www.facebook.com/teletripgaming
TeleTrip.Gaming Instagram: https://www.instagram.com/teletrip.gaming/
TeleTrip.Gaming Twitter: https://twitter.com/TeleTripGaming
Sorry, this event is expired and no longer available.