TeleMatch CODM happened on 19 Dec 2022 (Mon) evening with 99 registrations in 17 teams, out of which 13 teams are made up of individuals. The.games took longer than scheduled as the younger players are new to round-robin tournament format and having to set up their own lobbies for the games.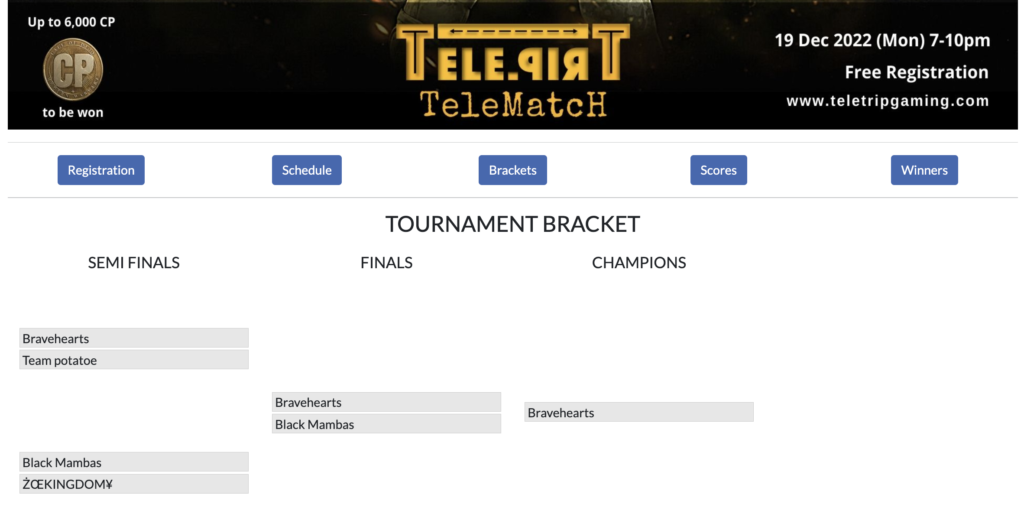 Due to time constraint, we did not play the semi-finals and went straight to the finals based on the scores of the teams during group stage. So for the 3rd and 4th place, it is determined by their group stage scores. So here are the winners for TeleMatch CODM:
– Champions: Bravehearts – 2500 CP per team + 5 x AfterShock Backpacks
– Runner-Up: Black Mambas – 1500 CP per team
– 3rd Place: ŻŒKINGDOM¥ – 600 CP per team
– 4th Place: Team potatoe – 500 CP per team
There are no individual prizes and Best Teamwork for this TeleMatch as the game mode played was Search and Destroy.
Special shoutout to our casters Jayson Coles and Jay Lord who casted the games and the livestream can be viewed at https://www.twitch.tv/videos/1683156605. Also thank you to Justine who helped in the facilitation.
Last but not least, Blessed Christmas and a Happy New Year to all!!