It was a bittersweet feeling as we concluded the first TeleMatch Valorant and the last TeleMatch for 2020. Even though we could not have an offline TeleTrip to gather and play, we are thankful to have players joining us at TeleMatch and providing us an opportunity to get to know them better through the games. Never failing to encourage the players, prize partner Aftershock has provided prizes such as keyboards, mouse and mousepads for the prize winners!
At TeleMatch Valorant – 19 Dec 2020, we had 10 teams, together with 6 facilitators and casters, joining us from as early as 10 AM until 7 PM. The games were livestreamed on twitch.tv/soosoio, with the viewers made up of mainly the players themselves! We did spot some familiar names joining the Twitch chat.
Since it's the season of gifting, we are going to list down the Twelve Gifts of Christmas that Valorant gave to We (song reference: The Twelve Days of Christmas – Warning: earworm alert >_<). The list is according to the order we received these gifts, starting from way before TeleMatch started on 19 December.
Facilitators immediately confirmed their availability

The moment we locked down the dates for TeleMatch Valorant, we reached out to Poh Jin and Justin to ask if they could help out as facilitators. They immediately informed us that they are available and made themselves unavailable for anything else that day, despite it being the month of gatherings.

Casters came prepared, soon after the facilitators

Gino "Jesterin" readily agreed to cast the games even though it was not his main game and took the challenge to read up on all the latest patches and agents. It was Deko's first time casting, but he agreed immediately and went to check up on the game. Similar to Gino, it has been some time since Deko played Valorant ever since he was enlisted for National Service. We are very thankful for their heart towards the community.

Casters doubled up as facilitators

Initially, the casters were informed that they can co-cast all the games. However, plans changed when we could not find the last two facilitators for the group stages. The casters took up the challenge to solo-cast the games and take turns to facilitate.

Casters providing a Discord boost without hesitation

Like all our previous TeleMatches, TeleMatch Valorant is no different in a sense where every single help is voluntary. As we get the livestream feed from the casters, the casters need to share their screens with us via Discord while we handle the overlays. When the casters realised that the free account can only stream in 30fps, they decided to upgrade their Discord account so that they can share it at 60fps to provide a good experience. They paid for it even though they knew they would not be compensated. Gino has been doing this for TeleMatch League of Legends – Oct 2020, TeleMatch DOTA 2 – Oct 2020 and of course this TeleMatch. Once again, thank you casters for pursuing excellence!

Teams and stand-ins registering despite not knowing what the exact prizes are

Even without knowing what are the prizes, they registered and kept to their word to turn up for TeleMatch Valorant. There were so many Valorant tournaments and community competitions, yet they were willing to commit to TeleMatch! We greatly appreciate your support for TeleMatch.

Stand-ins and teams patiently waiting for our updates

We are thankful for all the teams and stand-ins who have registered way before the deadline, because this meant that we could plan the groupings and schedule quickly. The teams and stand-ins were updated later in the week and every player cooperated!

Teams checking in on time, despite having teams from Malaysia and Indonesia (the Indonesian team who joined was at GMT +7)

We want to shout out to every team for waking up early on a Saturday morning to make sure that they make it for the check-ins. Even though team check-in time was at 11.15 AM, most teams were already checking in at 11.05 AM! Even throughout the day, the teams kept to the timing and we could even squeeze an additional cast of Semi-finals game 2 and end before 7pm (just in time for dinner)! For those wondering, Midtwo is the Malaysian team while MITOZ INCLOUD is the Indonesian team!

Team Midtwo offering their stand-in to team Insurgence

On the eve of TeleMatch Valorant, close to 9 PM, both Midtwo and Insurgence were lacking a player due to unforeseen circumstances. As Midtwo requested first, they were entitled to a registered stand-in, and we had only 3 registered with one already in Insurgence. We were waiting for the last stand-in to reply before Midtwo decided to offer the registered stand-in to Insurgence. Midtwo found out about Insurgence's situation on their own, without the intervention of the facilitators. Insurgence realised this and came to Midtwo's team channel to thank them. Refer to image 1 below to read the chat! Take note that funnybOy is MidTwo's captain while HRSBS is Insurgence's captain.

Stand-ins stepping up

All three stand-ins were very selfless and offered to join a team immediately when a team needed one, even if it meant waking up earlier than their normal times or making themselves available after a company meeting. Thank you Julius, Shihao and Wayne!

Players cheering for teams on stream Sometimes there are games where teams struggle to find a way out from their losing situation. Instead of choosing to flame, the viewers who are mostly players from other teams, chose to encourage and it reached the caster as Deko also echoed the encouragements from Twitch to the cast. Read the Twitch chat in image 2 and see for yourselves how encouraging the players are in image 3.
Team Insurgence persevered through the games despite remaining as a 3-man team

Instead of choosing to forfeit their game, team Insurgence requested to play against their opponents as a 3-man team as their remaining teammates could not make it for the game. We want to honour the team and want to tell the team that despite the score, they are already winners for playing through all the games! Refer to image 4 for the scoreboard.

Team Midtwo sharing their prizes with team RBC

No gift is complete without sharing. Team Midtwo received Most Spirited Team for persevering throughout the group stages despite having rough games. Instead of keeping the prizes, they offered to share them with team RBC, meaning RBC will be the new recipients of the 5 Aftershock Sliver mousepads. Their generosity throughout TeleMatch Valorant is greatly appreciated and frankly, our eyes are moist as we record this. Read the chat in image 5. Take note that SourCreamz and faktup are from Midtwo and Kairo is RBC's captain.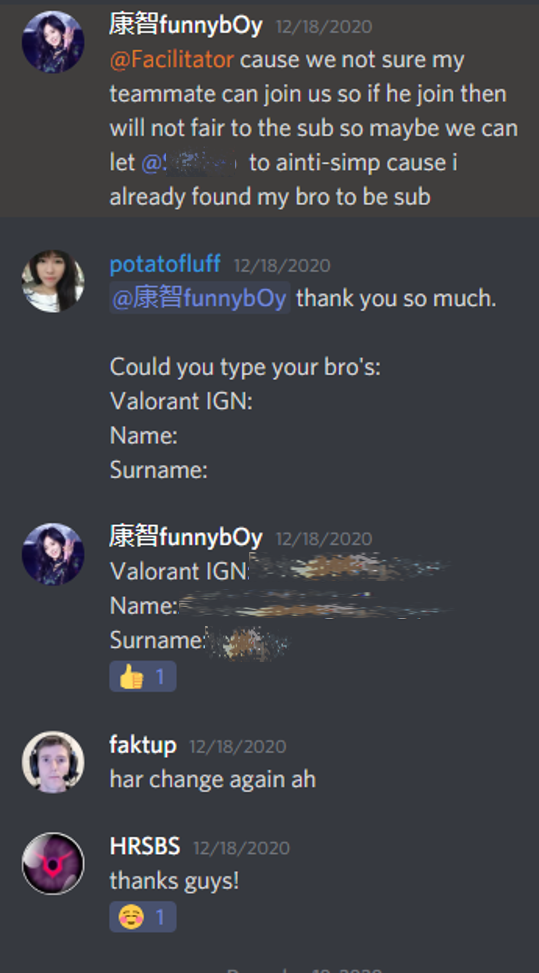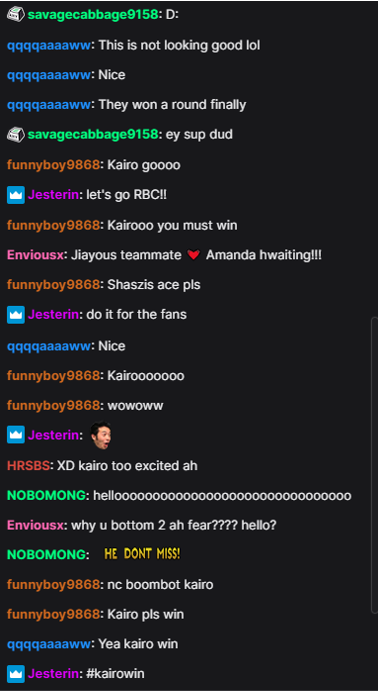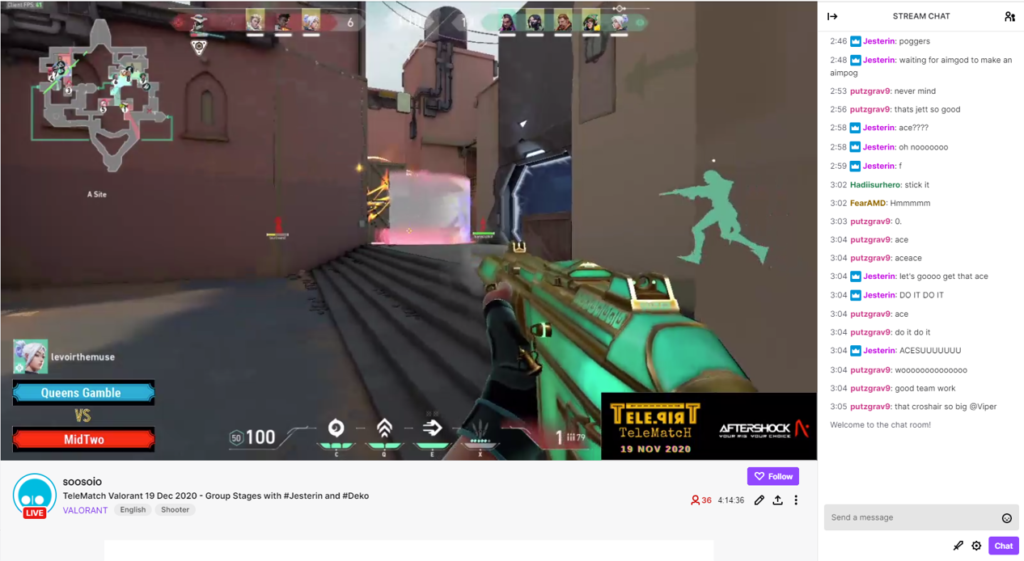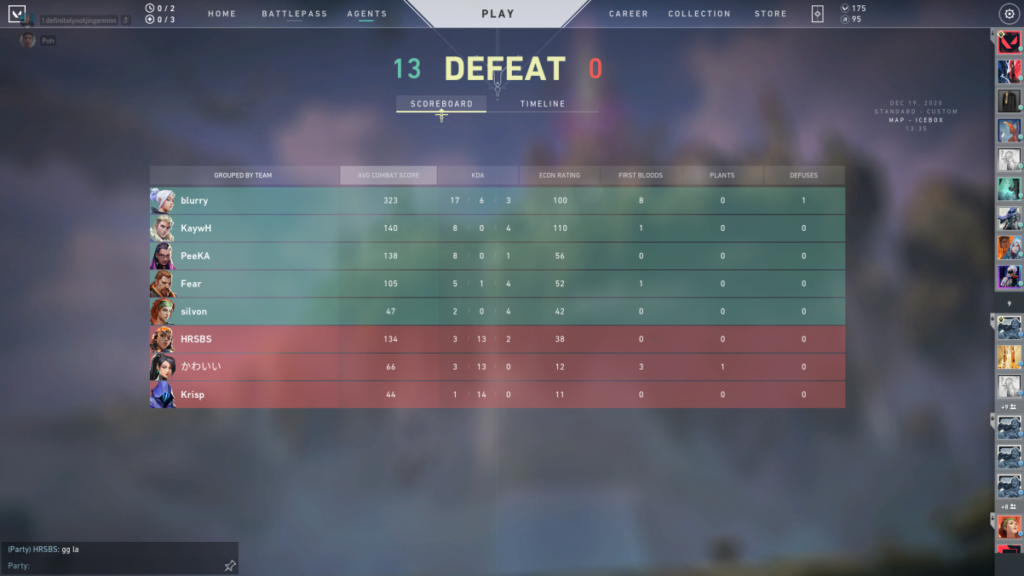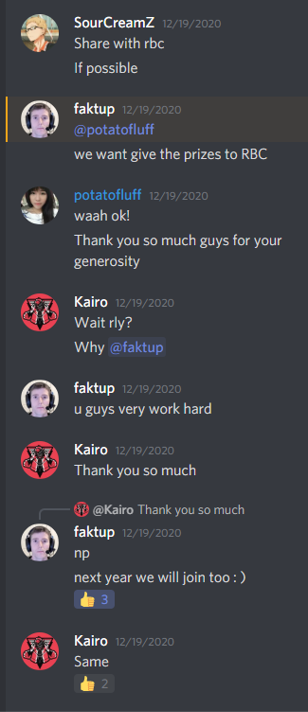 Game Highlights
So what about the highlights of TeleMatch Valorant? As we felt that every team did exceptionally well, we decided to put up the whole TeleMatch Valorant VOD as a highlight on our Twitch channel: twitch.tv/soosoio!
Prize Winners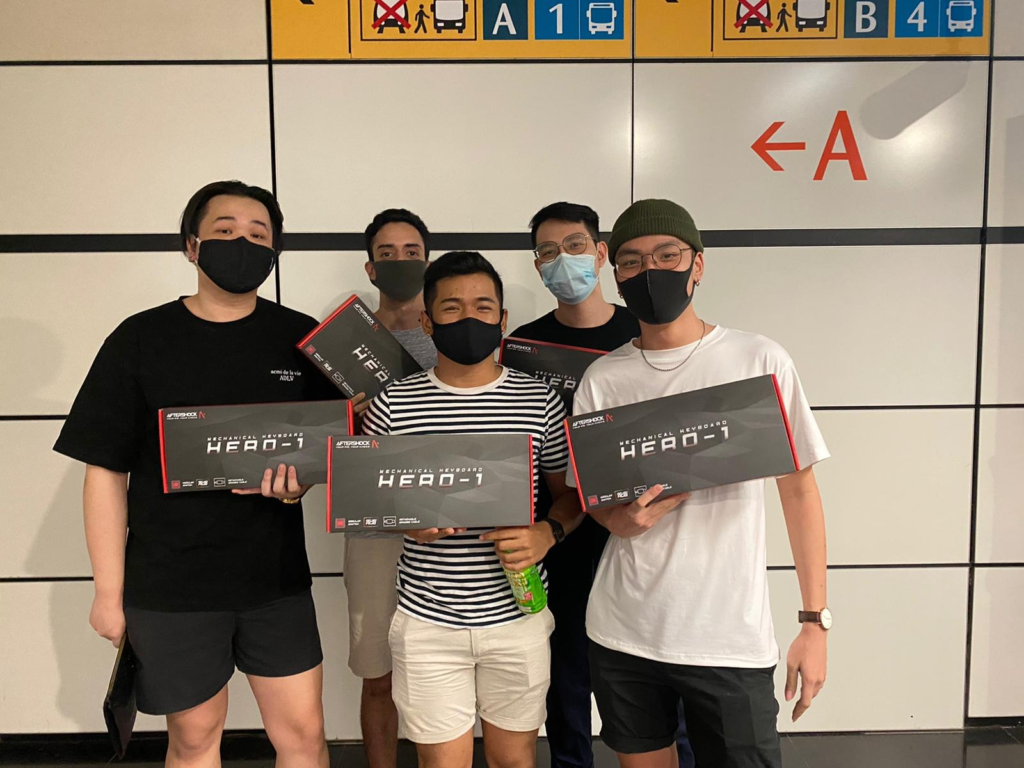 Champions: Sweet Young Boys
Prize: 5 Aftershock Hero-1 Mechanical Keyboards
Players:
Aloysius "aloyGODMODE" Austin
Jevin "kAE" Chan
Charandeep "zoom" Singh
Joshua "SPRAYBERRY" Chan
Muhammad "BIG BANG BROS" Khaireen
Adrian "L0YYY" Loy

Best Teamwork: 7eaM.NoObz
Prize: 5 Aftershock M1 Mouse
Players:
Amanda "Fear" Lim
Raymond "silvon" Chua
Wang "PeeKA" Chia Wei
Wong "xubstitute" Mun Ho
Marcus "blurry" Png
Wei Hao "KaywH" Lim
Most Spirited Team: MidTwo (They have decided to offer their prizes to team RBC)
Prize: 5 Aftershock Sliver Mousepad
Players:
Ashton "funnybOy9868" Pang
Justin "Burstieee" Gooi
Loo "MrEnderHero" Guo Yang
Chin "NoobHIns." Weng Hin
Javier Oh "SourCreamZ" Yi Sheng
Anderson "AimGOd" Pang
MVP: Hao En "EnS2" Goh (The Salty Spitoon)
Prize: 1 Aftershock Mousepad
Best Support: Kowen "filthy casual" Lee (The Salty Spitoon)
Prize: 1 Aftershock Mousepad
Special Thanks
We would like to shout out to:
Riot Games for providing the permission to run Valorant as the game title for TeleMatch and allowing us to experience the passion of the Valorant community
AFTERSHOCK PC for their generosity to give unconditionally to the community as much as they can. We appreciate your heart for the players.
Facilitators Poh Jin, Justin, Deko and Gino for your commitment to delivering TeleMatch Valorant and other TeleMatches.
Casters Deko and Gino for taking up the double duty of casting and facilitating the games! It is really not easy solo casting and we appreciate your effort
and all the players and viewers for being such a blessing to us.
We wish everyone a blessed Christmas and a Happy New Year!
Event Details:
Dates: 19 Dec 2020
Format: Round-Robin Best-of-1 for Group Stages and Single Elimination Best-of-1 for Semi and Finals
Registration Fee: Free
For more information: https://www.teletripgaming.com/events/telematch-valorant-19-dec-2020/