For the past two years, we were focusing on MOBA titles DOTA 2, League of Legends and Mobile Legends. This month, we took a leap of faith and dived into the First Person Shooter (FPS) genre. After finding out that many Overwatch players were looking for fun and meaningful Overwatch events, we decided to organise TeleMatch Overwatch. It was held on 26 September 2020, with prize partner Aftershock, streaming partner The Gym and supporting partner Battle Royale Singapore.
With every TeleMatch comes its challenges, and glad that we managed to overcome them with the support of the community. It was a pleasant surprise to see the Overwatch players liking and sharing the event. Eight teams registered, with a team made up of stand-ins.
Interestingly, the facilitators and casters who helped out this TeleMatch were from the other game communities. We had players from the League of Legends, DOTA 2 and Valorant community volunteering their time and effort to facilitate and cast TeleMatch Overwatch. Despite Overwatch not being their main game, they wanted Telematch to run smoothly so that the Overwatch players can have a fun and exciting experience. We are grateful to witness such generosity across gaming communities.
Unexpectedly, we had around 25 players watching the stream, peaking at 39 viewers. We also managed to wish Vas Sux player Radiax a happy birthday!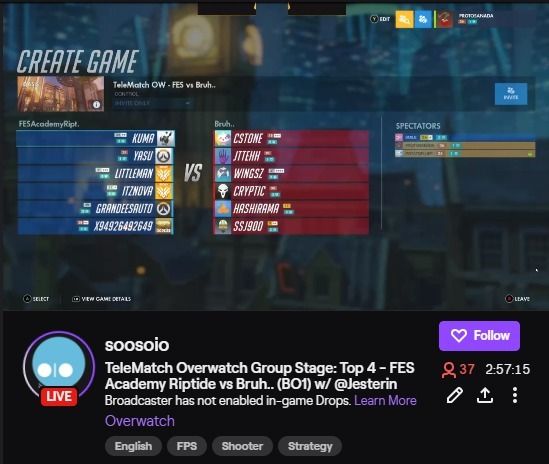 The teams treated us with exciting games and match ups during TeleMatch Overwatch. We had the stand-in team Bruh.. qualify for Top 4 and finalists FES Academy Riptide and Vas Sux playing a rematch. The finals was so close that both teams entered the Third and Fourth round in the Havana Escort map.
Watch the VODS below and see how the games and casting turned out! https://www.facebook.com/teletripgaming/videos/361592558300876/
https://www.facebook.com/teletripgaming/videos/758890108267936/
Congratulations to all the teams at TeleMatch Overwatch!
Here are the results of TeleMatch:
1st Place: Vas Sux
Prize: 6 Tempest Gale 104 mechanical keyboards, courtesy of Aftershock.
Dylan "Radiax" Tay
Jia Jun "Monsieur" Ong
Dylan "Dykrie" Chew
Jeff "Delph" Ng
Hui "ItsNotOkay" Xiang
Eugene "Vas" Lim
Shao "cowpay" Wei
2nd Place: FES Academy Riptide
Prize: 6 Aftershock M1 Gaming Mouse
Kieran "KuMa" Law
Daniel "Littleman" Bridge
Aden "ItzNova" Barcroft
Joshua "Grandeesauto" Ogame
Mitchell "x94926492649" One
Nico "yasu" Maleka
3rd Place: Please Carry Jean
Prize: Aftershock Sliver Mousepad
Jean "Jayelpeaeff" Lee
Jacus "ippmann" Seow
Phil "zxcPhil" Wong
Joel "lalala" Tan
Eugene "Matchatofu" Lim
Fann "SaltyEgg" Lee
Special Thanks
We would like to shoutout to:
Our prize partner Aftershock and streaming partner The Gym once again for providing the prizes and awesome stream respectively.
Supporting partner Battle Royale Singapore for helping out with the livestream.
Facilitators Xing Yong, Hakim, Jun Xiang and John for volunteering their time and efforts to make sure the event ran smoothly
Caster Gino "Jesterin" for providing such an entertaining and informative cast
and of course to our participants and viewers for supporting TeleMatch
Event Details:
Dates: 26 September 2020
Format: Round-Robin Best-of-1 for Group Stages and Single Elimination Best-of-One for Semi and Finals
Registration Fee: Free of Charge
For more information: https://www.teletripgaming.com/events/telematch-overwatch-26-sept-2020/