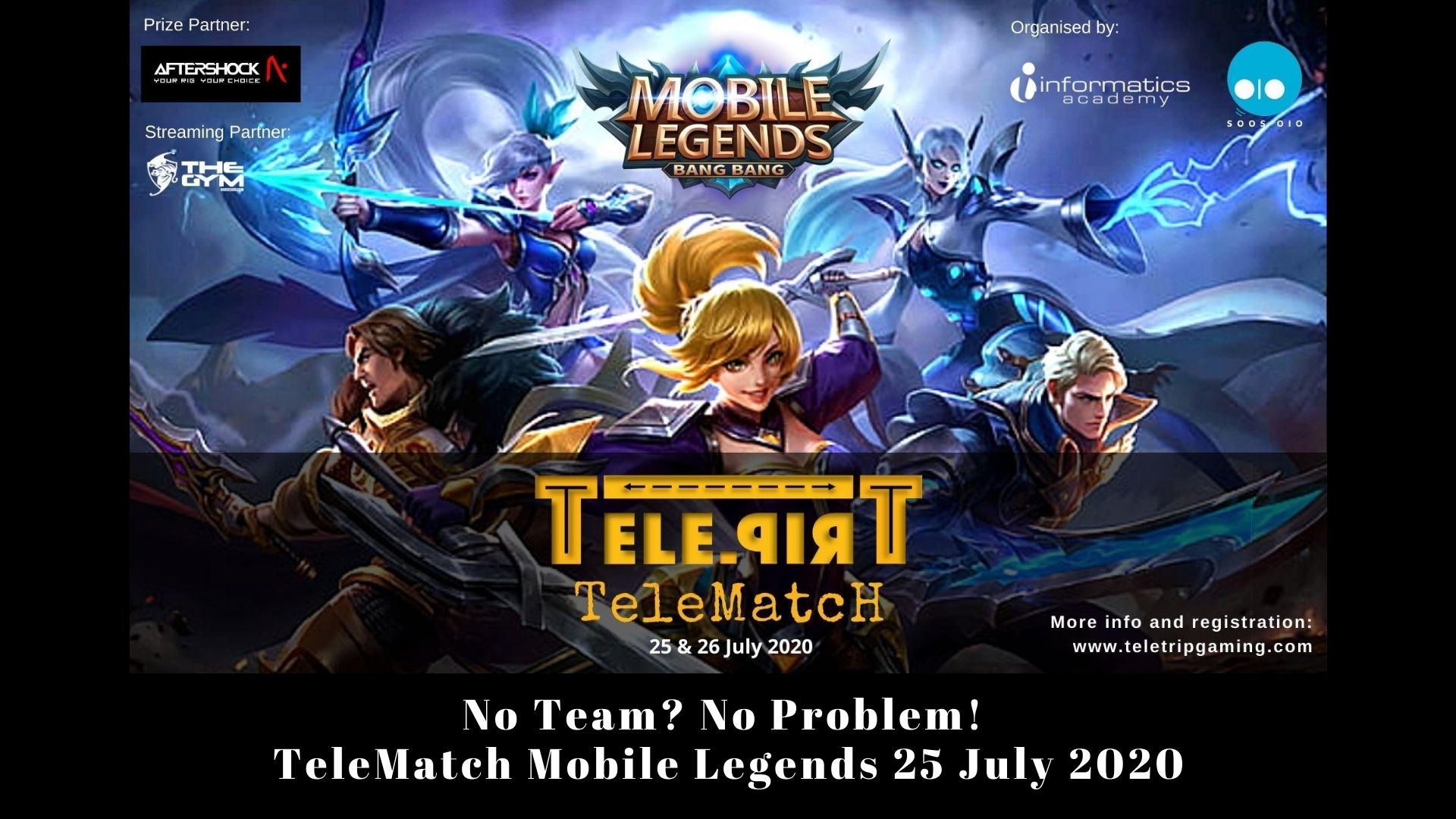 With the success of our first online competition #SGPlaysTogether TeleMatch DOTA 2, we decide to organise with the students from Informatics Academy a TeleMatch for the casual Mobile Legends players on 25 July 2020. We also received support from our prize partner Aftershock and streaming partner The Gym.
This time, we allowed individual players to register as stand-ins for the teams who are competing at TeleMatch, and guess what? There were so many stand-ins that two teams were formed! Even though it was their first time e-meeting and playing together, it was amazing to see how enthusiastic there were in coordinating last minute practices the day before the competition!
Similar to the previous TeleMatch, we were also concern about the lack of casters. Thankfully, we have three players from the community who volunteered to cast the games at TeleMatch! We were sincerely touched to see how the casters go beyond their comfort zone, to wake up early on the weekend and to try being informative and entertaining despite their shyness.
We received a lot of love and support from the players who stayed after their games to watch the finals and casting!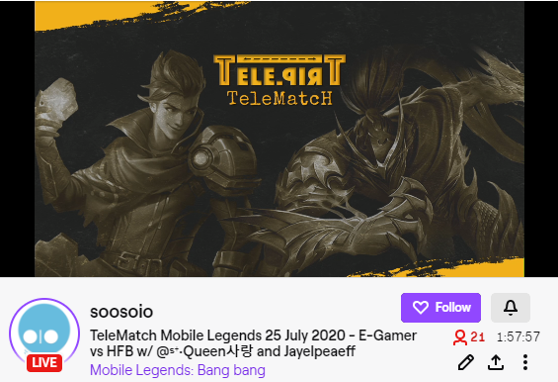 Watch the VODs below and see how the games and casting turned out!
Congratulations to all the teams at TeleMatch Mobile Legends!
Here are the results of TeleMatch:
Champion: Bacon & Eggs
Prize: 1800 diamonds and Aftershock Mouse
Dosen, "MyBabiTakeo" Low
Gavyn, "MyBabiMayo" Ong
Joseph, "MyBabiRose" Ng
Hanae, "нαηαє ˢᵗ" Miyako
Jonathan, "reborn." Yee
Best Teamwork: The Concavities
Prize: 1500 diamonds and Aftershock Backpack
Wei Xiang, "saveyoass" Lim
Kian Chai, "LatroM" Poh
Audrey, "Tsunade Senju." Chua
Chester, "ιиf•KookiePanda" Choy
Kenji , "Perish." Ngui
Most Spirited Team: Stand-ins
Prize: 1500 diamonds and Aftershock MousePad
William, "Monkeychimpz" Tabieros
Matin, "Puri." Mikail
Hanqiang, "ᴊɪʀᴀᴄʜɪ" Wong
Jiaen, "Lololololol" Li
Feng, "DaRkMaTuRe" Hangxin
Kai Ting, "Android" Yek
MVP: Sam, "~>DarkKnight<~" Tan
Prize: 300 diamonds
Best Support: Bryan, "BiCaiden" Garcia
Prize: 300 diamonds
Special Thanks
We would like to shoutout to:
Our prize partner Aftershock and streaming partner The Gym once again for providing the prizes and awesome stream respectively.
Informatics Academy students Jeff and Dareen for their efforts in organising TeleMatch
Facilitator Derrick who volunteered their time to prepare and marshal the games
Casters Caleb "ˢ⁺•Queen사랑 "Tai, Louis "Axel "Khoo and Jean "Jayelpeaeff "Lee for stepping out of their comfort zone and providing a beautiful cast
and of course to our participants and viewers for supporting TeleMatch
Event Details:
Dates: 25 July 2020
Format: Round-Robin Best-of-1 for Group Stages and Single Elimination Best-of-Three for Semi and Finals
Registration Fee: Free of Charge
For more information: https://www.teletripgaming.com/events/telematch-mobile-legends-july-2020/